Posted on October 21, 2017 by
david_pritchett
In this special edition of our 'Benfiquistas around the Globe' feature, we caught up with Gunnleifur Gunnleifsson, who recently completed his 23rd season as a professional footballer. The vastly-experienced goalkeeper has represented Iceland on 26 occasions, and was part of the squad that famously qualified for Euro 2016. We quizzed Gunnleifur about his own career, his love for Benfica, and his thoughts on Mile Svilar, Júlio César, Ederson and Jan Oblak.
When and why did an Icelandic international goalkeeper become a Benfiquista?
I was about seven years old when I was football crazy and began to watch football with a passion. Not much football was shown on Icelandic TV in 1982, but we got the World Cup in Spain. During Euro 1984, I watched a thrilling Portuguese team with Chalana as their best player. I started to get some information about Portuguese football and learned that he had been at Benfica, and also that Benfica had played against the Icelandic team Valur in 1968. So that's how I fell in love with Benfica.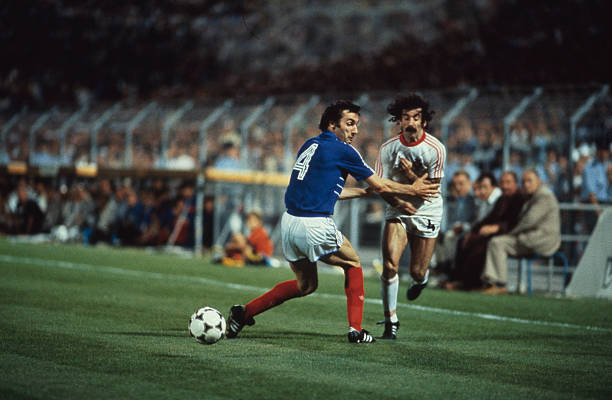 Who are your favourite Benfica players, past and present?
Chalana was my first love. Then I was a fan of Silvino the goalkeeper, Rui Águas, Mats Magnusson, Jonas Thern, Rui Costa, and my all-time favourite Nuno Gomes. Today, my favourite players are Jonas and Ljubomir Fejsa.
What has been your most memorable moment as a Benfiquista?
It was when I saw them lose against a good PSV team in the European Cup Final in 1988, and when we won the league title in 2004/05.
How easy is it for you to watch Portuguese football? Presumably the league doesn't receive much coverage in Iceland?
On TV we only get the Champions League games, but I use the internet to get the other Benfica games. There isn't a huge following amongst the Icelandic people, even though we are football crazy.
Have you ever played any matches in Portugal?
I was in the Icelandic squad when we played against Portugal in Porto [in 2011], a game we lost 5-3. And I played with FH against Nacional in Madeira [also in 2011], where we lost 2-0 in the Europa League.
Mile Svilar became the youngest goalkeeper in Champions League history against Manchester United, in just his second senior game as a professional. Was he thrust into the limelight too soon?
I don't think so. I think he was an obvious choice for the game, because Júlio César has been so prone to injury, and he conceded all those goals in Basel. Our fans can look forward to the future because our goalkeeping position is in good hands for many years to come with Svilar. [He gained some] valuable experience against Manchester United.
"Our goalkeeping position is in good hands for many years to come with Svilar"
Recently, Júlio César has struggled with a string of niggling injuries. As a 'veteran' goalkeeper yourself, how difficult is it to maintain your fitness with every passing season?
It is very personal. Some players need to do one thing, and other players need another. All you can do is to take care of yourself and don't do stupid things.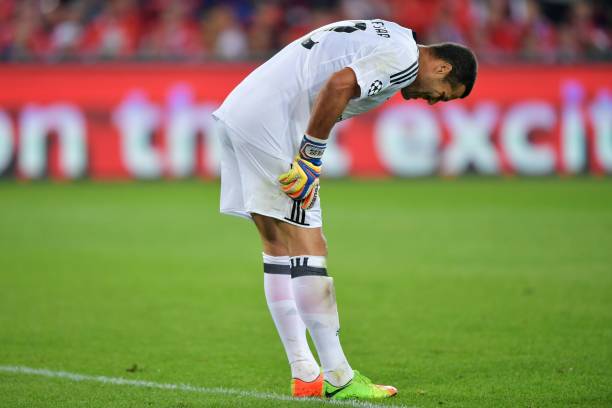 Rui Vitória has already used three goalkeepers this season. Is it counterproductive to rotate your goalkeepers so regularly?
At the beginning of the season, I don't think that our coach was planning on using three goalkeepers before November. It's not good for the team to rotate the goalkeeper's position; it's the last line of defence, and you need stability there if you want to gel with the defence. It can create insecurity in the team because every goalkeeper has a different approach.
Besides Benfica, you are a big Manchester City fan. How have Ederson and Bernardo Silva settled in, and just how good can they become?
I had my eyes on Ederson last season and I thought this guy could go as far as he wanted. Today I am convinced that if he can remain consistent and injury-free, I think in a few years time he will be amongst the top three goalkeepers in the world. Bernardo has not been a regular in the first eleven, but he comes on almost every game. I think he is a very intelligent player and has a lot to offer a fantastic Manchester City team.
"Ederson will be amongst the top three goalkeepers in the world"
Atlético Madrid's Jan Oblak is another goalkeeper that made his breakthrough at Benfica. How highly do you rate him amongst the world's top goalkeepers?
Oblak is the perfect example of a goalkeeper that does the simple things so well. He is not a 'showcase' goalkeeper; almost every game he delivers a good performance. He's one of the best in the world today.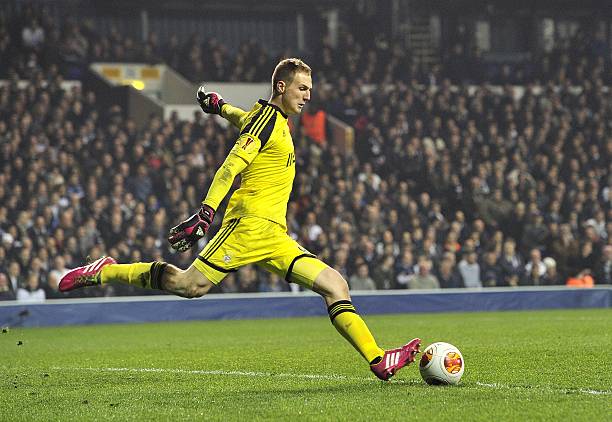 Iceland performed heroically at Euro 2016 and have now qualified for World Cup 2018, topping a tough group that included Croatia, Ukraine, Turkey and Finland. What is the secret behind the team's success, and how far can they go in Russia?
For many years, the Icelandic people have been famous for their work ethic, and that of course includes our sports people. In the last 10 to 15 years, we have put a lot of effort into the education of club coaches. That, combined with the revolutionary indoor football pitches, has been a major key for developing technically good players, amongst other things.
When coaches Lars Lagerbäck and Heimir Hallgrímsson took over the national team in 2011, there were many good players taking their first steps in the team. That, together with a huge step forward from the football federation in terms of professionalism, was a big factor. We honestly think we can beat any nation in the world, so we will aim high in Russia. Why not?
What is your favourite memory from your international career?
I was selected for my country about 80 times, but only played 26 times, and most of them before 2012, so I was not playing during such a successful period as the team is enjoying now. But I think the games against Holland in 2008 and 2009 were my best games, even though we lost both. Also, there was the game against Portugal at home [in 2010] where Ronaldo scored against me after two minutes from a free-kick. I did not have my best game there as we lost 3-1!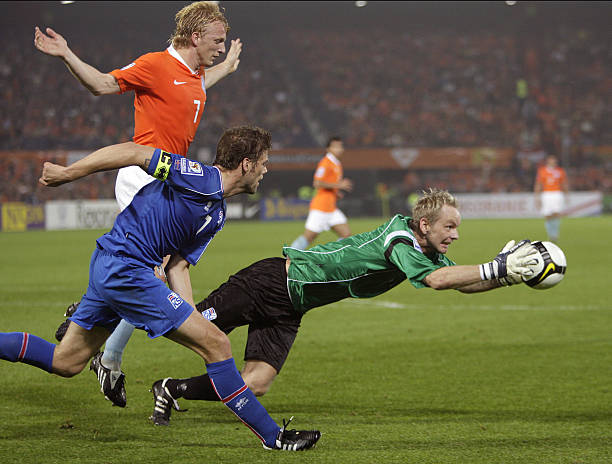 But my absolute favourite memory from my national career is when we qualified for our first big tournament in the history of Icelandic men's football. We drew 0-0 against Kazakhstan in Reykjavík which got us to France for Euro 2016. I was a sub in that game, and when the final whistle came, Iceland erupted like a volcano! A proud moment for me to be a part of.
You are no stranger to wearing the captain's armband. How would you describe your style of captaincy? Do goalkeepers make better captains?!
Goalkeepers are no better captains than others; it depends on the character. I have a lot of experience; I think I have earned some respect from my fellow footballers in Iceland, so I use every positive thing that I have learned from a long career to help my club and my team as much as I can.
You've just completed another season with your club, Breiðablik. How long do you plan to keep playing, and what will you do when you hang up your boots?
Football is my life. Almost everything in my day-to-day life is about football. My wife is a former football player and three of my kids play football. I am starting season 24 in my senior career because I love football passionately. I will continue to play as long as I am fit and can perform for my team. I have completed a lot of coaching seminars with the federation, and I have my very own goalkeeping school, so I will definitely coach when I retire. I have also done some TV work for football programmes, which I enjoy a great deal. So there is only more football for me in the future!
"I am starting season 24 in my senior career because I love football passionately"
---
Many thanks to Gunnleifur for taking the time to chat with Planet Benfica! You can follow Iceland's biggest Benfiquista here on Twitter.