Posted on July 2, 2017 by
david_pritchett
Where are you from, where do you live, and what is your occupation?
I am from Cork City in the Republic of Ireland, and I'm currently a student of History and Geography at University College Cork.
When and why did you become a Benfiquista?
I have been a Benfiquista since the age of 13, when I first visited Portugal for a family holiday. Being young and football mad I was hell-bent on getting my hands on a football shirt as a memento of my time spent in the sunny Algarve. I originally planned on buying the Portuguese national team shirt, but having been exposed to the sheer passion of many of the locals for their club SL Benfica, I was instinctively drawn towards the red and white section of the shop, swiftly bypassing the swathes of green and blue to which I paid little attention! It was then I bought my first Benfica shirt and thus began a love affair with O Glorioso that has grown into one of the great passions in my life.
Who are your favourite Benfica players, past and present?
When I first started following Benfica, the top players I was drawn to were Pablo Aimar and Óscar Cardozo. Even at my young age, I was impressed by the intelligence and skill displayed by Aimar to use his size and ball control to his advantage to set up the play. The natural goalscoring instinct of Cardozo was of course a joy to watch. In recent years, we have had a number of players who have made their names at the Luz and then moved on to other clubs, like David Luiz, Ramires, Fábio Coentrão, Javi García, Ángel di María, Rodrigo, Enzo Pérez and Nemanja Matić, and more recently, fantastic talents like Renato Sanches and Gonçalo Guedes. All of these players have played key roles in great teams at Benfica, but as I have matured as a Benfiquista, I have realised that my favourite player is our captain Luisão, because the passion with which he plays makes him the heart and soul of the club. Where the other great players have moved on to other clubs, he has remained loyal in his commitment to Benfica. By reaching the milestone of 500 games for the club, he has confirmed his status as a living legend in the eyes of Benfiquistas around the world.
Have you visited the Estádio da Luz or seen any Benfica games live?
I have visited the Estádio da Luz on three occasions since 2008. I visited the Cosme Damião museum in 2014, which I found to be a truly great experience. I would recommend it to any Benfica supporter or football fan in general, as it gives one an opportunity to see all of the trophies and past glories of Benfica in one place. I attended my first game on November 8th 2015, against Boavista at the Luz. Benfica won the game 2-0, and it was right at the beginning of the 14-game unbeaten run in which we won 13 and turned the season around after a below-par start to the season. The experience of seeing a game live at the Catedral is one I really hope to repeat, because the passion and atmosphere is second to none... from singing "Ser Benfiquista" with the rest of the faithful at the beginning of the game, to chanting along with the Ultras, to the unbridled joy of celebrating a goal with people who share the same love of the club.
What was your favourite moment as a Benfiquista?
I think that my favourite moment as a Benfica fan came in 2013/14 when we won the Treble, a feat that had never before been achieved in Portuguese football. I choose this season as my favourite moment because I feel we had a truly great side, and for the romantic nature of how we bounced back from the disappointment of the 2012/13 season, which as a whole was pretty tough to stomach. Reaching the Europa League finals in both of these seasons was also a source of great pride for me, as it was fantastic to see our club dining at the top table of European competition again, even though the results did not ultimately go our way.
What was your worst moment?
The 2012/13 season was just a sickening experience, as we lost the league title, the Portuguese cup and the Europa League final in heartbreaking circumstances. Personally, our loss in the Europa League semi-final to Braga in 2010/11 still stings, as had we won that tie it would have set up a final with our great rivals from the north for a Clássico at the Aviva Stadium in Dublin, which is only a two-hour drive from my home in Cork. I was convinced that I would get the opportunity to see Benfica win a European trophy in my home country, but it was not meant to be and the disappointment of the loss has stayed with me.
For you, what makes Benfica special or unique?
For me the word that springs to mind when I think about Benfica is passion. The passion with which over 50% of the Portuguese population support this great club has an almost religious quality. As Benfiquistas, we refer to our team as "the Glorious", our stadium as "the Cathedral", and the players are worshipped like gods. The club is a bastion of hope and joy for millions of fans across the globe, which I feel gives it the unique soul that has proved so infectious to the supporters.
If you could change one thing about the club, team or fans, what would it be?
There are not many things I would change about the club, but I would love it if we could gain greater financial strength to become a club that keeps its great young players, and imports top players to strengthen our team. I want us to transition away from the recent pattern of exporting our talent to teams such as Chelsea, Real Madrid, Bayern Munich and PSG. Benfica are as big - if not bigger - than some of these clubs, and should have the ability to strengthen the team and recapture some of their past European glories. Also, I don't like it when we wear red shorts with our kit... that's a particularly bizarre pet peeve of mine, but I feel that our famous kit should not be tampered with in any way! It just doesn't feel authentically 'Benfica' to me.
Do you support any other teams besides Benfica?
I have been an avid supporter of Liverpool FC and my local team Cork City FC since childhood. Cork City had a particularly good season this year, having started the season by winning 12 league games in a row - 14 in all competitions - and we remain unbeaten at the time of writing, with a 12-point lead over our nearest rivals.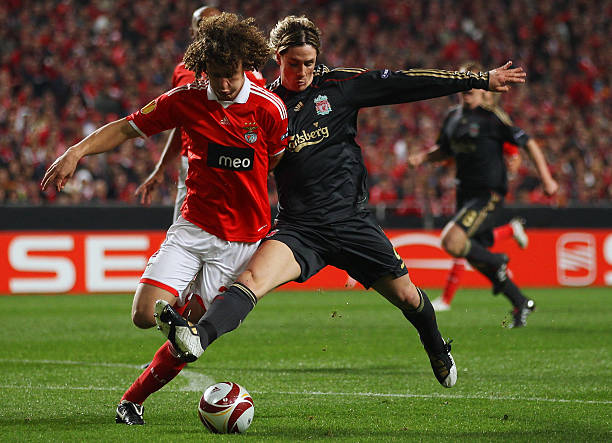 What are your hobbies apart from watching the Eagles?
I am studying to become a teacher at the moment, so that has proved quite time-consuming with exams and assignments. But I enjoy travelling with my girlfriend and playing Australian Football with my college team, the UCC Bombers.