Posted on February 22, 2017 by
david_pritchett
Benfica welcome GD Chaves to the Estádio da Luz on Friday night, to kick off Matchweek 23 of the Liga NOS. The Eagles claimed a hard-fought 2-0 victory against the newly-promoted outfit back in September, and will need to be at their best to repeat that result against a team with the fourth best defensive record in the league. Ahead of the match, we chatted with Brandon, creator of the excellent English-language newsfeed @GDChavesWorld.
How big a blow was it to lose head coach Jorge Simão to Braga recently, followed by Rafael Assis, Paulinho and Rodrigo Battaglia?
When Chaves hired Jorge Simão at the beginning of the season, I had a feeling about the man. He looked like the kind of coach who could do the job that we needed him to do, plus a little bit more. He proved that throughout the season with his new ideas, which included defending as a team, and instilling passion, fight and pride for the shirt. When he left for Braga, it was obviously devastating. The man who had led us to the top half of the table had abandoned us.
He then cut short the loan of our star midfielder in Battaglia, and signed our defensive midfield rock in Rafael, together with another crucial player in right-back Paulinho. When you lose three of your best players, everything isn't going to be fine. It took some time to find the right personnel to replace these men that had helped out our side so much.
Ricardo Soares replaced the departing Simão. How has the team's style changed under the new coach?
Ricardo Soares has truly been a blessing in disguise. The man had a lot of expectations to live up to as he was replacing a great coach in Jorge Simão, who was extremely successful during his time with the club. At the beginning, you could tell that Ricardo was just playing it safe by using exactly the same formation and tactics as Simão, the classic 4-3-3. Now, Ricardo is bouncing back and forth between a 4-4-2 and a 4-2-3-1, but the team is still playing the same quick counter-attacking football that Jorge Simão introduced. So at the end of the day, Ricardo Soares was a great replacement for Jorge Simão!
Chaves have only conceded two goals in their last six games! Is defence the team's greatest strength?
The best part about the defensive side is that we defend as a team. Every single player - from the backline all the way to the strikers - plays their role. As many people can see, our wingers are consistently tracking back to help out. Our striker, usually Rafael Lopes, will drop deeper to put some pressure on the central midfielders. It's those sorts of things that make this team so special. There is no individualism here, just a bunch of men with the guts and passion to win at all costs.
By contrast, Chaves average just 1.05 goals per game in the Liga NOS this season. Is goalscoring their biggest weakness?
I'm not going to lie, goalscoring is definitely a problem. The problem with playing a counter-attacking style of football is that you might only get three to five clear-cut chances in a game, if you are lucky. There are times when Chaves capitalise on those chances, but most of the time, we struggle to put the ball in the back of the net. This year's goals have been absolutely beautiful though, be it some astonishing build-up play, a set-piece, or a banger from Fábio Martins [below right]!
Hamdou Elhouni and Carlos Ponck are currently on loan to Chaves from Benfica. What types of player are they, and how have they been doing?
Hamdou is the spark that every team needs. He comes off the bench and just lights it up with his pace, dribbling and skill. He makes the game quicker and more dynamic with the way he plays. It's like a breath of fresh air with him, but unfortunately he got injured and has been sidelined for two months now. He is looking to make his return after the Benfica game.
At the other end of the pitch is Carlos Ponck, the rock of our backline that keeps everything together. Ponck started off on the bench along with Hamdou, but as time went on, he gained Jorge Simão's trust and has been a regular starter ever since. He went from playing next to Leandro Freire, to Nuno Coelho, and now to Massaia. He has battled through adversity and has been a beast and an overall great professional.
OK, so Ponck is now operating as a centre-back. Is he good enough to play for Benfica?
Absolutely. I keep telling everyone that he is one loan player that could go back and make an impact at Benfica. He has similar traits to Lindelõf but he is far stronger, faster, and his heading is fantastic. All he needs to strengthen is his positioning, which can sometimes hurt us. He has so much potential and Rui Vitória should take him seriously when he comes back!
Who are Chaves' star players?
There aren't really any stars in the team, but there are individuals that stand out above the rest. Fábio Martins (on loan from Braga) is one of those players, who always shows his class and uses his pace and dribbling to create chances for others. He is also known for his long shots - especially the one against your arch-rivals Sporting - as well as his desire to win.
Another man that doesn't get enough credit is our captain and left-back Nélson Lenho [below right], who in my opinion has been the best left-back in the league this season. If you were to define a warrior, he would be it! The fight that this man shows on a game-to-game basis is incredible and inspiring, and he is not a man to be messed with.
Chaves are four points from the Europa league qualification spots and in the semi-finals of the Portuguese cup. Which is the greater priority?
Jorge Simão implemented a target of 40 points at the beginning of the season, and Ricardo Soares has agreed to stick by it. Obviously the league would be the biggest priority out of the two as we are trying to establish ourselves as a great club, and we can show this through the league table. The Taça de Portugal run has been special though, having beaten Porto and Sporting. Getting so close to a trip to the Estádio do Jamor is amazing, and something that a club like this will always appreciate!
Do Chaves have any injuries or suspensions ahead of their trip to the Estádio da Luz?
The only injuries at the moment are to centre-backs Felipe Lopes and Mathuas, who are both out. Goalkeeper Ricardo Nunes is conditioning, but his availability for Friday's game is questionable. Hamdou is also limited in training, but he will not be able to play due to the loan rule. Carlos Ponck will not be able to play due to the same rule.
Could you predict Chaves' lineup for Friday night?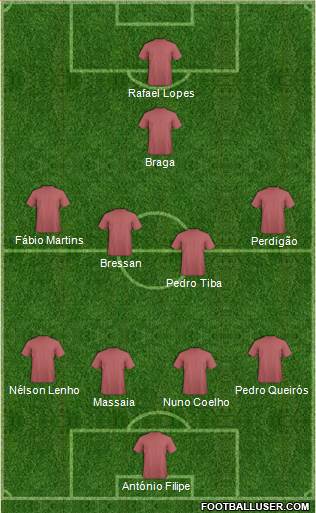 Finally, what is your score prediction?
Going to the Luz nowadays and getting a result is a tough task. The hostile environment is going to be difficult, but I truly believe that this team is up for the challenge. I am going to say that the match will end in a draw, 1-1.