Posted on August 13, 2017 by
david_pritchett
Benfica face GD Chaves at the Estádio Municipal de Chaves on Monday night, to round off Matchweek 2 of the Liga NOS. How are the northern outfit shaping up ahead of the match? To find out, we chatted with Brandon, curator of the English-language newsfeed @GDChavesWorld.
How have Chaves fared in the summer transfer market? Who were the most significant arrivals and departures?
Chaves have gone through an up-and-down transfer window so far. Starting off with the departures, it is extremely tough when you lose your captain and starting left-back, Nélson Lenho (transferred to Aves), your starting centre-back, Carlos Ponck (end of loan), and also a great midfield playmaker in Braga (transferred to Aves), but I think Luís Castro has eased that pain with some great signings!
Bringing in Matheus Pereira [pictured below] and Domingos Duarte on loan from Sporting has strengthened our attack and defence, respectively. Defensive midfielder Jefferson was signed from Hajduk Split to bring some physicality and steel to the side. We have also re-signed Paulinho from Braga to add some mobility and ability on the overlap from right-back. Jorginho is a Manchester City youth product that has arrived on loan from Saint-Étienne. He is an explosive winger with an eye for goal and some great playmaking abilities.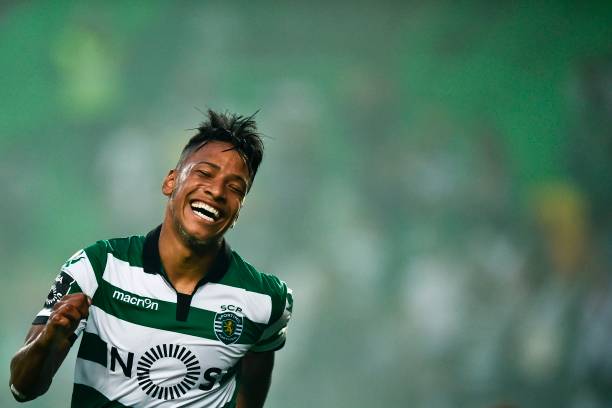 Who has replaced the inspirational Nélson Lenho as captain?
As many of you saw last year, Nélson Lenho was one of the best, if not the best left-back in the league. The man was also the ultimate captain as he was a true professional, set a good example on and off the pitch, cared for the community and the fans, and played his heart out on the field every game. It is extremely hard to replace someone like that. This year's captain is Nuno André Coelho, a man that is also a leader and an absolute professional. He has a lot of experience in the Primeira Liga, which will help the new players that are unfamiliar with this league and its style of play.
Was it a disappointment not to renew the loan of Carlos Ponck from Benfica?
I'm not going to sit here and say that it isn't tough to lose someone of Carlos' quality, because it is. He was a big part of how we played last season, and if it wasn't for his hunger, desire and passion at the back, we would have lost a lot of more games. Replacing him with Domingos Duarte has helped a little, but I will forever miss Carlos Ponck [pictured below left], and I wish him the best of luck at Aves and for the rest of his Benfica career!
By contrast, Benfica winger Hamdou Elhouni will stay with you for another year. How good can he be if he can stay fit?
Hamdou was on international duty during the summer, so he was given extra vacation time, which might explain why he isn't starting at the moment. On top of that, he will face much more competition this year. He's going up against the likes of Matheus Pereira, Jorginho, Perdigão and Davidson - even Platiny could play there - so it won't be easy for him. He has quality and should get some starts, but his role will be probably the same as last year, which was to come off the bench as an impact substitute. He's an extremely pacy player who has great technical ability, and I'm a huge fan of his, but it will ultimately depend on how he competes in training and how he performs on the pitch when he is given an opportunity.
Luís Castro is your third coach in the space of a year. How does he compare with his predecessors, Jorge Simão and Ricardo Soares?
All three coaches have different styles of play. Jorge Simão was a man who loved to press the opposition and counter-attack quickly when we got the ball. Ricardo Soares was a more relaxed coach who wanted his players to remain patient and wait for the other team to give up the ball before hitting them on the counter-attack. Luís Castro [pictured below] is the other extreme since he loves possession football, as he showed during his time with Rio Ave and his previous stints with Porto and Porto B. He is a demanding coach that wants his players to understand every aspect of the game, tactical and mental. He also gives his players a lot of freedom in the final third.
Soares has taken Lenho, Braga and Ponck with him to CD Aves. Is there any bitterness from the Chaves fans about this?
I think if you ask any fan, they will probably tell you there is a little bitterness there. It is easy to say that Aves are trying to copycat our success of last year by bringing in the players that were crucial to that success, but at the same time, you have to respect their strategy. Aves have done well this transfer window by bringing in quality players that really know how to compete, just as Chaves did last summer.
How encouraging were your preseason performances?
Going undefeated in preseason has given the fans a lot of confidence in the team this year. Beating the likes of Aves, Boavista, Porto B and Marítimo was pleasing, but we also know that it was just preseason and that these results mean absolutely nothing. Most of these teams didn't even name a full-strength squad. It is great to win, but you have to look at preseason as a time to build up fitness, while trying not to pick up injuries. That's really all it is!
How did you get on in your opening league game against Vitória de Guimarães?
It was truly a disaster. Three defensive errors and giving the ball away easily gifted the home side a three-goal lead. Going into the 80th minute, when we looked dead and buried, William scored to make it 3-1. Eight minutes later, William scored again and a comeback looked to be on the cards. We attacked and attacked after that, but the goal didn't come due to poor decision-making in the final third. The way we conceded the goals was embarrassing, but at least we showed some fight and passion at the end!
You have made some improvements to your stadium this summer. Has the capacity been increased?
Yes! The future is looking extremely bright for this club as they have added a whole new stand on the east side of the stadium behind the goal. The stand gives us 3,050 new seats, which increases our capacity to 8,000. The club is growing and growing, and it is awesome to see! 
Last season Chaves threatened to qualify for Europe before finishing eleventh. What are the club's aspirations for this campaign?
Last year's success was remarkable, but looking ahead to this year, I want more and so does the club. Chaves hired Luís Castro because they believed in his vision to take us to the Europa League, which is where we want to be. It won't be easy, but a top five or six finish is the goal for me and a lot of Flavienses!
Could you predict Chaves' lineup for Monday night?