Posted on March 28, 2017 by
david_pritchett
Rumours continue to swirl about the formation of a European Super League. But what would this actually involve, and what would it mean for a club like Benfica? Jordan Russell investigates.
JR: The potential creation of a European Super League (ESL) is undoubtedly one of the most controversial topics facing football today. Never before has the financial gulf between Europe's elite and the rest been so large. Never before have clubs been so divided on how to shape their collective future. Almost inevitably, UEFA now finds itself in the midst of a power struggle, with the 'super clubs' such as Real Madrid and Bayern Munich plotting to break away from the Champions League as we know it.
The way in which individual clubs treat the idea of an ESL becoming a reality has turned into a test of morality that could soon interest almost every football supporter on the continent. Cynics argue that such a plan coming to fruition would be like European football's own version of the 1998 disaster movie 'Armageddon'.
The elite clubs would be given a platform to further increase their bank balances by means of re-negotiated television deals and investment from new sponsors. Meanwhile, the so-called 'lesser clubs' would be left out in the cold, wondering what their next move should be.
Essentially, the plan being pioneered by the likes of Real Madrid President Florentino Pérez [pictured below] and Bayern CEO Karl-Heinz Rummenigge is to create a new super league of twenty teams from the five biggest footballing nations: Spain, Italy, Germany, England and France. Sides from outside that select group would have very little hope of gate-crashing the tournament. Effectively, leading clubs from the likes of Portugal, Holland, Belgium and Scotland would be overlooked.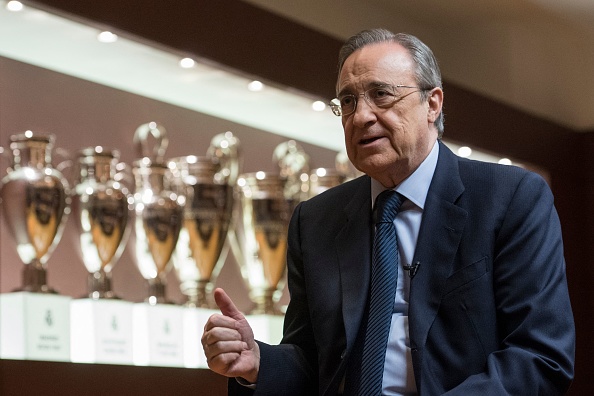 There is another alternative. Should the Champions League continue in its current guise, it is understood that the leading clubs want guarantees that the most powerful clubs such as Real Madrid, Barcelona, Juventus, Bayern Munich and Manchester United will be granted entry regardless of their league position. In this eventuality, there might be a reduction in the number of places up for grabs for teams from the so-called 'lesser' European leagues.
For the time being, the European Club Association (ECA) insists that such a move is out of the question, and there are no plans to diverge from the current set-up. They released the following statement last Autumn:
"The ECA has taken note of comments made today regarding the alleged creation of a European Super League in 2018. ECA underlines that such an idea was never discussed within the association and never figured on any meeting agenda. ECA is very happy with the current European club competitions."
Bayern CEO Rummenigge, who is interestingly also the chairman of the ECA, added:
"Our European Super League is the UEFA Champions League! We are very happy with the current competitions and our extremely fruitful collaboration with UEFA."
"We will continue to work together with UEFA, and this means beyond 2018."
Officially at least, Rummenigge [pictured below] is towing the ECA party line, but questions remain over his long-term loyalty to UEFA competitions. Make no mistake, his number one priority is Bayern, and his remit is to lead the Bavarians to as much commercial success as possible. No one would deny him that privilege, but to deliberately mislead people on such a sensitive issue would surely spark outrage.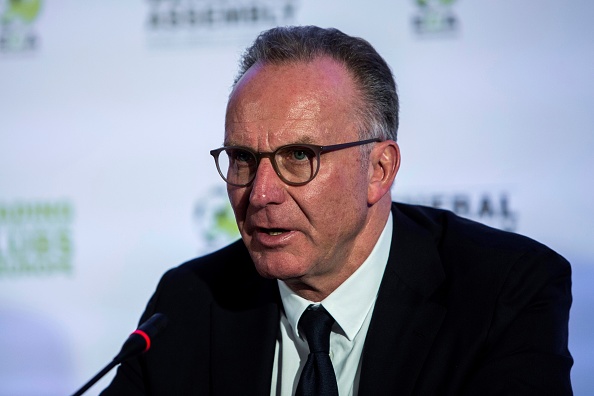 An ESL would lead the elite clubs to a land of untold riches, but what would happen to the likes of Benfica, Porto and Sporting? Would it provide them with a greater chance of success in a Champions League devoid of Europe's leading lights? (After all, Porto were the last side from outside one of the top five leagues to lift the Champions League trophy, and that was back in 2004). Or would it direct them along a path of destruction, both economically and in terms of prestige?
From a Benfica perspective, it is difficult to pinpoint exactly what the club's stance should be. President Luís Filipe Vieira has hinted that the Eagles should be part of an ESL. But would the Primeira Liga's top-brass really be invited to the party? And what could they do if they are not?
The issue is so divisive that it would hardly be surprising if Benfica, Porto and Sporting held differing views on how to proceed as a collective force. There may well come a time when the leaders of the three clubs need to sit around a table like mature adults, set their differences aside, and work out a solution. That time could be coming soon, according to Vieira:
"This topic should really concern Portuguese football, (but) it seems that we are all distracted."
There are of course numerous clubs across the continent who would be in a similar position to Os Três Grandes. Ajax, Celtic and Anderlecht are just three sides that could find themselves at a crossroads depending on the eventual outcome of the ESL debate. In fact, reports suggest that Porto have already held talks with Ajax and Celtic in order to determine how the 'second class citizens' should react if an ESL were to become a reality.
One thing is for sure, if the idea of an ESL is abandoned in favour of a restructured Champions League, O Glorioso must not allow themselves to be pushed around by richer clubs that may try to limit or remove their access to the competition. The likes of Benfica, Porto, Sporting, Ajax and Celtic are huge names: massive institutions with rich histories and vast global fanbases. They are perfectly entitled to play in Europe's elite competition, irrespective of whether their domestic leagues are less lucrative than those of their rivals.
Benfica, twice European Cup winners, have as much right - if not more - than the likes of Chelsea and Manchester City to a seat at European football's top table. What happens next could prove to be a defining moment in Luís Filipe Vieira's presidency.
BENFIQUISTAS HAVE THEIR SAY
To gauge whether the Benfica fans would like their club to participate in a European Super League, we ran a 24-hour Twitter poll. Of the 306 people that voted, 53% would be in favour of the Eagles' involvement, while 31% are open to the idea, but would await further details before making a judgment. Only 16% were totally opposed to the suggestion.