Posted on May 11, 2017 by
david_pritchett
Benfica are just two points away from lifting their fourth consecutive Primeira Liga trophy, following a nervy 1-0 win over Rio Ave on Sunday night. The Eagles were given a tough test by their Europa League-chasing opponents, with the game's only goal arriving in the 75th minute, courtesy of Raúl Jiménez. The visiting fans were made to sweat until the final whistle, with FC Porto loanee Gonçalo Paciência striking the post for Rio Ave in the dying minutes.
Speaking after the match, head coach Rui Vitória dedicated the victory to his players and the travelling supporters.
"We faced a beautiful team. We arrived here and you saw why we are in first place. We didn't manage to score in the first half, but we pinned Rio Ave back in the second and scored. (It was a) triumph that the players deserve, and the fans too for the way they supported us."
"Rio Ave are a good team, but we controlled the game after we scored the goal. We played a good game, imposed our game... we wanted to win and we showed this during the 90 minutes."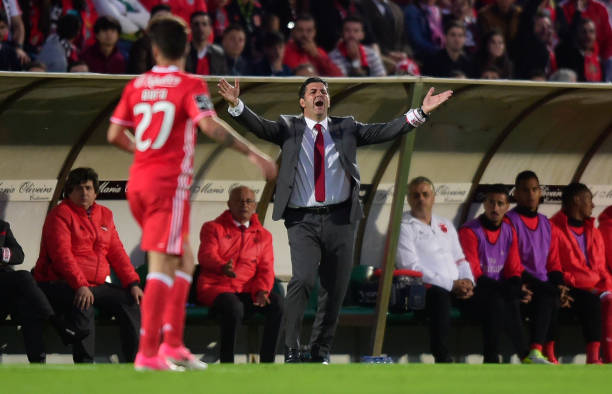 The Encarnados' winning goal came from a perfectly-executed counter-attack involving Franco Cervi, Jonas, Eduardo Salvio and Raúl Jiménez. Salvio has been heavily criticised by some Benfiquistas for his recent displays, while Raúl has struggled to maintain his fitness during an injury-hit season. Vitória praised both players for their part in the move:
"(It was a) good move on our part, with Jonas releasing Salvio who set up Raúl Jiménez who finished very well. Many congratulations to Raúl Jiménez, but also to Salvio."
A win against Vitória de Guimarães would enable Benfica to lift the league trophy in front of their home fans on Saturday evening, but the 47-year old was quick to guard against complacency.
"Celebrations are only for after things happen! We want to win and to be champions, but we think game by game. The stadium will be full and this will be a great help. It would be good for these players to become part of history."
The Estádio dos Arcos remains a happy hunting ground for Raúl Jiménez, with the Mexican striker scoring a crucial late winner at the ground for the second season in succession. The 26-year old was understandably delighted with his decisive contribution:
"I'm very glad to have scored and like this to have helped the team. This was a very important victory and I'm very happy to have scored another goal in this stadium."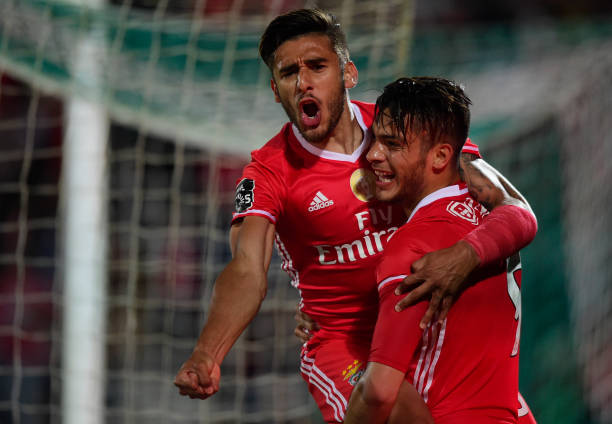 "It was an important goal, an important victory, but two 'finals' remain. We will continue working, remain focused, and take it step by step. Two weeks remain to achieve something that we have worked for during the whole year."
"It would be wonderful, crowning the season by winning the title at our stadium, with our supporters present! But first we have to win the game and then soon after we will see."
Raúl has been restricted to just seven starts this season, but when he has been fit, he has looked sharp in front of goal, netting on nine occasions. Indeed, he averages a goal for every 108 minutes spent on the pitch, which compares favourably to the record of Kostas Mitroglou (121 minutes). The ex-Atlético Madrid man expressed his gratitude for the support of his coach and colleagues during a personally frustrating campaign.
"I want to say thanks for the opportunities, and all of the support given by the boss and by all of my teammates... it wasn't an easy season! But I worked hard, I never gave up, and I never dropped my head."