Posted on June 25, 2017 by
david_pritchett
According to the Portuguese press, Arsenal starlet Chris Willock is poised for a surprise move to Benfica B. We caught up with Mosope Ominiyi, youth team correspondent of the Arsenal fansite Daily Cannon, to get the lowdown on the teenage forward.
Short Bio
Born on January 31st 1998, Chris Willock joined the Arsenal academy at age five and has been with the club ever since. Rated as one of the side's most promising attacking talents, Willock was left frustrated by his lack of first team opportunities last season given his contributions at youth level.
In 2014, Arsene Wenger identified Willock, then 16, as a star of the future during a pre-season friendly with the senior squad. He made his debut in the EFL Cup victory over Nottingham Forest as a second half substitute, and featured once more against Reading during the following round win. However, it was clear that he was becoming increasingly disgruntled with the lack of chances to make a breakthrough like Alex Iwobi did two seasons ago, as he remained a regular under Steve Gatting with the under-23s. He contributed three goals and eight assists as the Young Guns earned a respectable fourth-placed finish in Premier League 2.
Playing style
Willock is very much a player that relishes taking opponents on, and he has the acceleration and quick feet to cause all sorts of problems for opposition backlines. Despite usually playing out on the flank, he is an underrated passer of the ball and someone who is constantly an attacking threat, even when you least expect it. Sometimes, his demeanour can come across as languid or lethargic, especially when he's not heavily involved in a match. But a quick turn of pace, deft skill or mazy run helps him to get the supporters off their feet, and allows his teammates to create passing options in space.
Player comparison
Given his attributes, Willock is a similar player to Nathan Redmond, in particular during his time at Norwich City. Both are able to create space for themselves and carve out chances after a rapid burst of speed past defenders. Redmond has matured with experience at Southampton and is becoming a more consistent player too, something which Willock will undoubtedly be keen to do in the future.
Strengths
His acceleration and trickery let him skip past defenders effortlessly at times. Willock is technically-gifted and he has a range of different weapons in his game that help to justify the hype surrounding his performances, whether that be his passing range or clever movement in the final third.
Weaknesses
His decision-making needs improvement as he shows the frustrating tendencies of rushing probing passes and unnecessarily forcing play forward too often, which often results in the loss of possession. In addition, he is frequently seen remonstrating with officials when decisions aren't given in his favour and he has to improve the defensive side of his game too. Some have said that he's too weak and needs to increase his strength if he's to assert his first-team credentials; he needs to brace himself for contact and not be so tentative.
Interested clubs
Borussia Dortmund, Celtic and Manchester City were just three of the sides interested in signing Willock this summer, after it was reported months previously that he had yet to extend his existing deal with Arsenal. Benfica's link with the England under-19 international has only surfaced recently, though the decision could prove beneficial for his career as he may flourish abroad - outside of his comfort zone - just like Eric Dier did at Sporting a few years ago.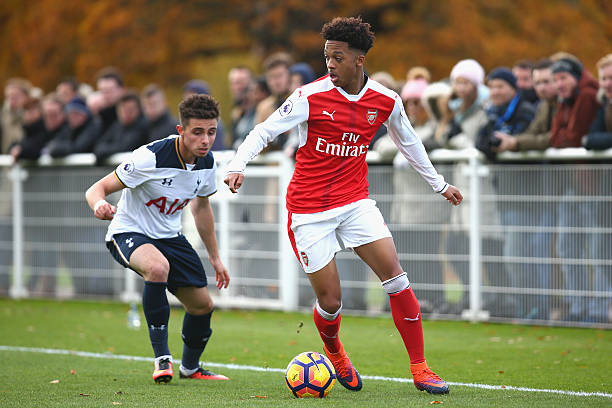 Transfer fee
As his contract is set to expire at the end of this month, he can agree terms to join the club of his choice on a free transfer.
How he would fit in at Benfica
The Englishman is likely to start out with Benfica B in the Segunda Liga. Rui Vitória's first team squad is currently stacked with attacking players, but given the Eagles' propensity to sell their prized assets, that may not prove a barrier to his progress. A lot will depend on how quickly Willock adjusts to living in a new country, playing with a new team, and speaking a new language. Eric Dier moved to Portugal aged seven, so he had plenty of time to develop outside the limelight.
Likelihood of a move to Lisbon
8/10. According to Record, Willock has been in Lisbon since Thursday, and it seems that an official announcement is imminent. In the long-term, the deal could easily turn out to be a profitable one from Benfica's perspective.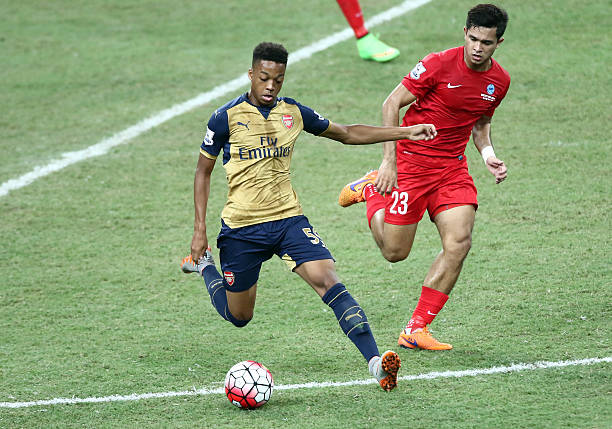 PLAYER FACTFILE
Full name: Christopher Anthony Willock
Nationality: English
DOB: January 31st 1998 (Age 19)
Club: Arsenal
Position: Left Wing
Height: 1.78 m
Preferred foot: Right